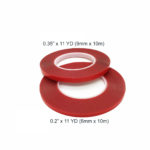 Cobra Clear Acrylic Emblem Tapes
Cobra Clear Acrylic Emblem Tapes
$5.87 – $6.58
Whether it is for mounting signs on glass or doing some work with vinyl and other applied materials, these Cobra Clear Acrylic Emblem Tapes in 6mmx10m or 9mmx10m are a great choice. A transparent acrylic foam tape, they are entirely clear when applied. At a 1.0mm thickness, it will offer the kind of strength and stability needed for signs, displays, and even fabrication. It is lined with red film for easier and more controlled applications, and is an essential in the toolkit. Put it to use in applying or re-applying emblems on other applied materials or finished surfaces and count on years of performance and service.
Excludes Sales Tax and Freight Charges*
Cobra Clear Acrylic Emblem Tapes
Only logged in customers who have purchased this product may leave a review.