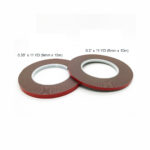 Cobra Grey Acrylic Emblem Tapes
Cobra Grey Acrylic Emblem Tapes
$5.87 – $6.58
These multipurpose Cobra Grey Acrylic Emblem Tape in 6mmx10m or 9mmx10m offer you the opportunity to enjoy industrial bonding capabilities and to affix signs, emblems, and other materials to LSE substrates and other surfaces with great ease. In an appealing grey foam, it is an acrylic foam tape that is 1.2mm thick and lined with a red backing for ease on the eyes as you apply it to large or small areas. In two convenient widths, you get 10m of the tape to ensure you can tackle a job of any kind. An essential adhesive product, it is suited to all kinds of graphics, car wrapping, detailing, and other projects.
Excludes Sales Tax and Freight Charges*
Cobra Grey Acrylic Emblem Tapes
Only logged in customers who have purchased this product may leave a review.