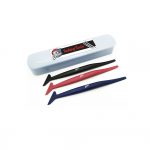 Cobra Tucking Tools(3Qty/PacK)
Cobra Tucking Tools(3Qty/PacK)
$15.00
You know from experience that you cannot just jam a film or vinyl into a crevice or edge and expect the best result. It takes a bit of finesse and the right tools. These Cobra Tucking Tools (3Qty/Pack) allow you to achieve your goal through the use of a hard, medium soft, or soft edge. Whether it is for tucking film into narrow edges, applying it in small spaces or even fitting it into concave angles, these tools are going to get the work done. Contoured handles give the utmost in control, and the different hardness factors ensure you can always obtain just the right results without any damage to the film.
72 in stock
Cobra Tucking Tools(3Qty/PacK)
Additional information
| | |
| --- | --- |
| Weight | 0.16 lbs |
| Dimensions | 8 × 2 × 1 in |
Only logged in customers who have purchased this product may leave a review.