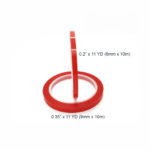 Cobra PET Red Emblem Tapes
Cobra PET Red Emblem Tapes
$4.70 – $5.48
Whether applying a new emblem or doing some repairs, this Cobra PET Red Emblem Tapes in 9mmx10m and 6mmx10m are going to provide you with the durable and flexible adhesive necessary for the job. A polyester adhesive tape, it comes in varied widths and in a 10m roll to provide you with a tensile strength of 9.3lbs/in and an adhesion level of 90 oz/in. The red color makes it easier to use than other tapes, and it is transparent to a thickness of 202 microns. It can withstand 50% elongation before it runs the risk of snapping, and is temperature resistant to 176 degrees Fahrenheit over the long term.
Excludes Sales Tax and Freight Charges*
Cobra PET Red Emblem Tapes
Only logged in customers who have purchased this product may leave a review.